Sharon Cooper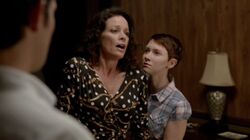 Character Profile
Portrayed By
Kate Hodge
Season(s)
1
Appears in
1 (Flashback Only)
Character
Full Name
Sharon Cooper



Status
Deceased
Manner of Death
Killed By Emma Hill
Characteristics
Age
Late 30's to 40's
Gender
Female
Eyes
Brown
Hair
Brown
Personal Status
Marital Status
Single
Spouse
Unknown
Immediate Relatives
Emma Hill (Daughter; Deceased)
Professional Status
Profession
Mother

Sharon Cooper was Emma Hill's mother.
Biography
Edit
She was a very criticizing mother and never showed any empathy for her daughter and presumably others. After criticizing her daughter and saying that she didn't deserve her boyfriend, Jacob, her own daughter stabbed her, causing her to die of blood loss.
Emma later told Debra Parker that her mother was a slut and a bitch who would bring men home and have very loud sex with them. However, Debra asks her if it really was worth it to murder her and remarks that she probably misses her on some level. ("The Fall") 
While Emma presumably killed her due to her criticizing nature, lack of empathy, and habit of having sex with many men, Emma has proven to be no better than her mother. Emma herself is distrusting of other, shows little empathy towards others sufferings and tends to enjoy it on some level, and has sex with different men from Jacob, Paul, and even Joe Carroll willingly despite his loyalty to his ex.