Patrick Trano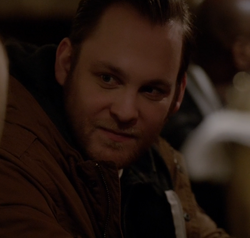 Character Profile
Season(s)
2
First Appearance
Teacher's Pet
Last Appearance
Teacher's Pet
Appears in
1 episode
Character
Full Name
Patrick Trano



Status
Deceased
Manner of Death
Shot by Mike Weston
Characteristics
Age
30's
Gender
Male
Eyes
Brown
Hair
Brown
Personal Status
Patrick Trano was a Follower in The Following. He joined the Korban Cult, where he was later accepted by Joe Carroll along with several others and given the task of spreading his message by killing people in New York.
Biography
Edit
Patrick was ex-military, originally serving overseas in Iraq. He was dishonorably discharged for torturing Iraqi citizens and eventually found his way to the Korban Community. He was locked away by Julia in the hole, due to his past.
After Joe kills Micah and his wife, he assumes control of the cult. Patrick and several others are allowed out of the hole, to act as his "warriors" for his new following. They are each given to Robert, who oversees their killings of various victims in New York. Mallory Hodge is teamed up with Patrick, with her choosing a restaurant she used to work at as the place for their next victims.
They enter the establishment and sit at the bar, with Patrick talking to Mallory about her boyfriend Lance and how she's doing this for him as well as the cult. She chooses a potential victim and follows her into the bathroom, only to be fought off after brandishing a knife. In the meantime, Patrick spots the police lights outside the restaurant and heads back towards the bathroom where he catches the woman just as the police come in. Holding her hostage with a knife to her neck, Mallory walks out and Ryan Hardy begins talking with her. He convinces her to come back with him, dropping her knife so she can be with her parents...but before she can do anything else, Patrick pushes the hostage at Ryan and quickly grabs Mallory slashing her neck. A second later, Mike Weston opens fire and kills Patrick...with Mallory bleeding out in Ryan's arms shortly thereafter.
2014:

The attack at the restaurant:

Unnamed woman (held hostage at knifepoint; was rescued)
Mallory Hodge (slashed her neck)
Community content is available under
CC-BY-SA
unless otherwise noted.