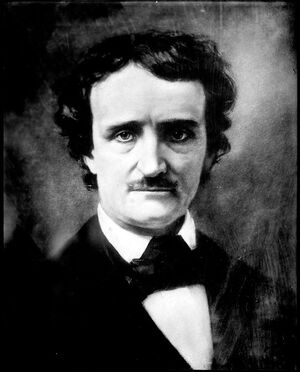 Edgar Allan Poe (born Edgar Poe; January 19, 1809 – October 7, 1849) was an American author, poet, editor and literary critic and a part of the American Romantic movement. He was best known for his tales of mystery and the macabre, Poe was one of the earliest American practitioners of the short story and is generally considered the inventor of the detective genre. He is further credited with contributing to the emerging genre of science fiction. He was the first well-known American writer to try to earn a living through writing alone, resulting in a financially difficult life and career.
In The Following, the works of Poe serve as the inspiration for Joe Carroll and his Followers. Claire said Joe fancied himself as Poe, who was his idol and a particular focus in his classes.
Trivia
[
]
The storyline about Joe's love for Poe appeared in the first few episodes of the season until his escape. However, a Poe mask appears and Poe was mentioned at the final episode of the season.
According to the producers, season 2 won't be about Edgar Allan Poe anymore.